bicycling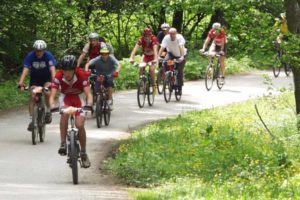 Take in the scenery while enjoying more than 80 miles of trails, from invigorating 30-minute rides to leisurely afternoon loops.The forest preserves of DuPage County offer some of the best bike rides in the Chicagoland area, including the Illinois Prairies Path.
Most of the individual trails in the forest preserves allow bicycling, but a handful may have seasonal or site-specific restrictions. The use of Forest Preserve District trails does not require a permit or have an associated fee. Please refer to individual forest preserve maps for details which can be found here.
Bicycling Guidelines
Ride on the right side of the trail, single file when in groups.
Announce "passing on your left" when doing so.
Ride at controlled, safe speeds, especially on curves and in parking lots
Heed trail signs that show a bicycle with a slash. These trails are off-limits to bicycles due to dangerous conditions or ecologically sensitive areas.
Approach horses slowly, and allow extra room. Never pass a horse on a bridge; bridges can make even experienced animals nervous.
Be aware of wildlife both on and off the trail. Remember, you are a visitor in their habitat.
Practice "leave no trace." Whatever you bring into a forest preserve, take out.
To preserve nature's quiet and solitude, refrain from making any loud sounds.
Click here to read our latest trails guide, which has trail tips and maps of our 24 most-popular preserves.